Monitoring your Google Analytics data regularly is a time-consuming process. Google Analytics Intelligence Alerts let you detect significant statistical variations which can be caused by site errors, issues in your Adwords account or any other problems.
Basic information on how to use Intelligence Alerts in Google Analytics can be found here.
In many cases it is useful to create custom intelligence events that will alert on significant changes in engagement rate, conversion rate or visits from your main traffic sources.
Custom intelligence alerts settings are very straightforward but some people get stuck when they need to send an alert when multiple conditions are met.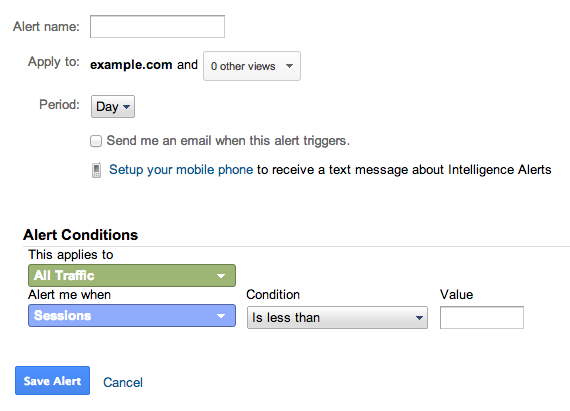 , For example, you need to alert on users that have visited some specific pages and spend at least 1 minute on any of them. This is cannot be configured directly on alert configuration page so you need to follow these steps to get it:
Navigate to Segments and create a new custom segment that will include only people who have visited the desired pages and spend at least 1 minute on any of them.
Create custom alert for this segment with the condition "Sessions greater than N".
That's it. You will get an alert in case the number of users who have read the specified pages reaches the desired number on the previous day.
But what if you want to get alerts in real-time? For example, you want to get an alert when any user has visited a specific page or when your website does not register any sessions for more than an hour. Unfortunately, this cannot be done with the help of Google Analytics Intelligence and some other tools need to be used.
Real-time Intelligence Alerts Solution
For any e-commerce business it is really important to get alerts real-time in case the site is down. You cannot wait till tomorrow to get an alert from Google Analytics. Some actions must be taken immediately.
Fortunatly there is a great custom solution labnol.org to monitor site's uptime with google spreadsheets. The script logs information in the spreadsheet in case the site is down and can be configured to send email and SMS alerts to you.
You can download and try it yourself https://docs.google.com/spreadsheets/d/1xQdraUuL2IAsDJ4w-6w2vxlCuGxhiiPqBdzFyOeUO7s/edit?usp=sharing
There can be other events that require immediate reaction when they happen on your website. If you use Google Tag Manager it is quite easy to create a server-side script that will be triggered from Google Tag Manager and will send you alerts on such events in real-time.
If you need any real-time events custom solution for your business feel free to contact me.