Landing pages report in Google Analytics helps marketers to evaluate the performance of different landing pages,to identify high converting landing pages, to find landing pages with inadequately high bounce rate or loading time, to find landing pages which are not mobile friendly and answer many more specific questions with data.
However there are some issues that can prevent or make it difficult to get useful data from the Landing pages report.
(not set) values in Landing pages report
This is an important issue which means the Google Analytics cannot get the data about site entrance point and it will not be able to get the data about the traffic source of these session. It normally means that some of the pages on the website do not have a tracking code installed. So it is a good idea to start with this tool http://gachecker.com/ in order to find the pages without tracking code.
(not set) values will be also present in Landing pages report in case an event is send before pageview. This is often a case for one-page and JavaScript applications.
There may be an issue with filters or session timeout which result in (not set) values.
This issue must be fixed even if you are not much interested in the landing pages report itself because this issue influences traffic attribution accuracy.
Checkout pages in Landing pages report
Significant number of checkout or shopping card pages in the Landing pages report is a sign of cross domain tracking issue. In case a site is affected by such an issue a lot of transaction and revenue will be attributed to checkout pages and to direct traffic source. This means that other traffic sources and landing pages that were involved in converting the users will be underestimated and the reporting will be inaccurate.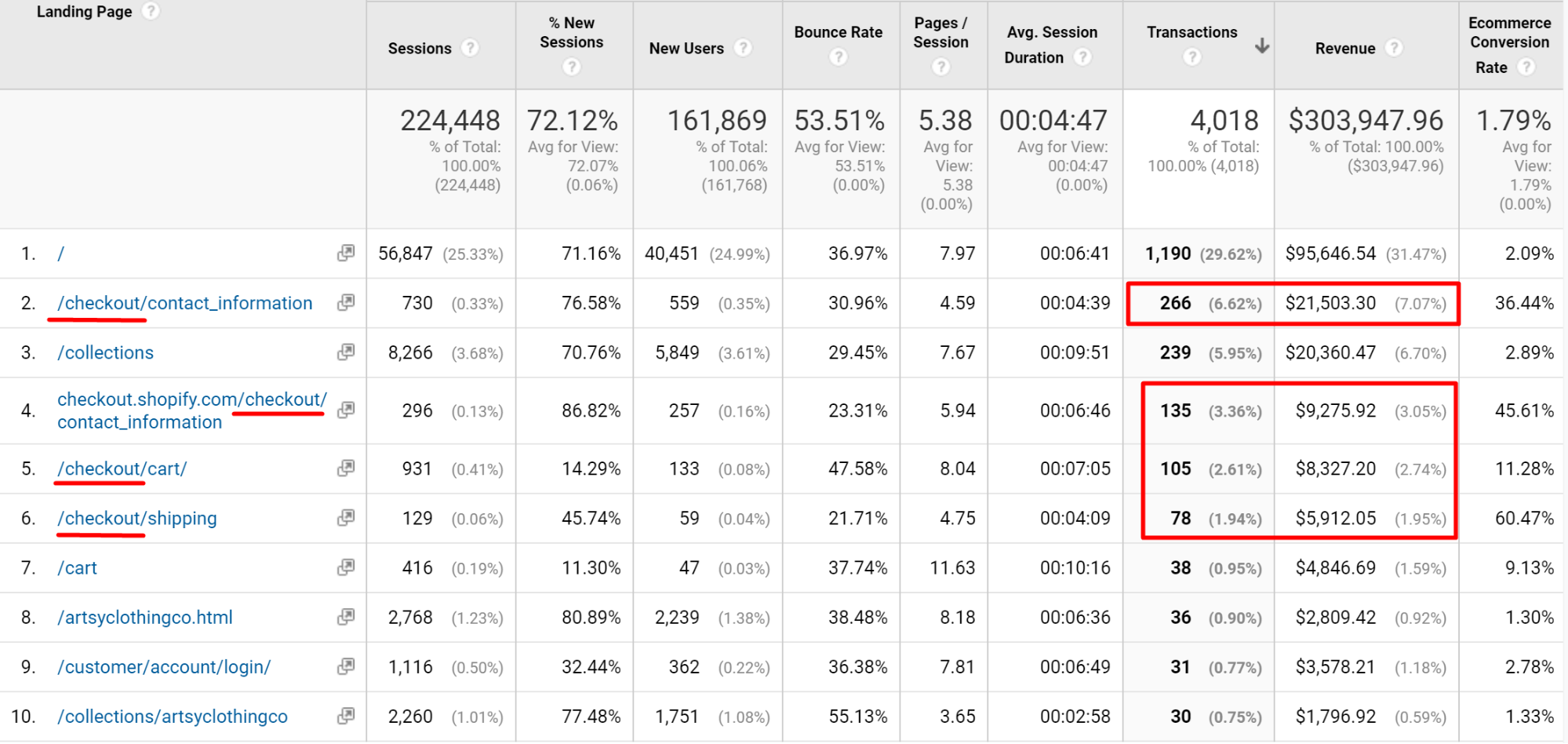 Configuring cross domain tracking or moving the checkout pages to the same domain with other pages will fix this issue.
URL variables in Landing page report
In order to analyze your landing pages performance it is necessary to explore the data broken down by landing page properly. But in many Google Analytics accounts one landing page may be shown in 2 or more lines because of url variables that are attached by marketing or tracking platforms. The website may also have such a structure that it uses url variables (for example, for internal search or pagination).
Here is an example of such a report. Page /2/ is reported in 3 lines and page /1/ is reported in 2 lines while normally these metrics should be aggregated.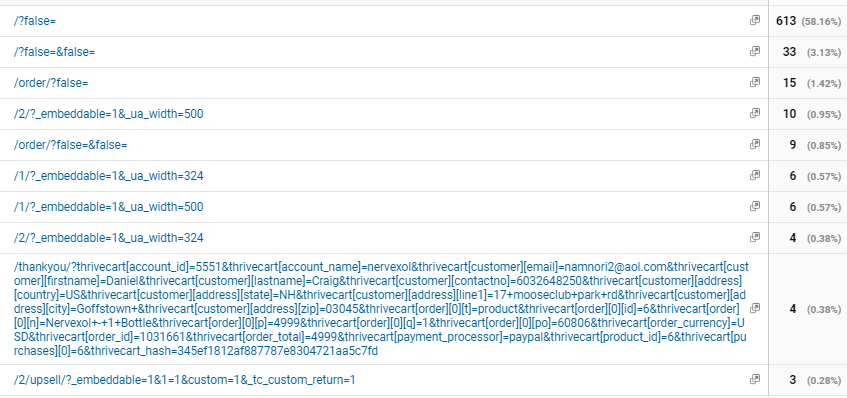 Moreover since the middle of October 2018 Facebook started to add fbclid url variable to all the destination urls in the ads. So in case you advertise on facebook most of your landing pages used in Facebook ads will get this variable and the values will not be aggregated. Here is how the landing page report for Facebook traffic will look like: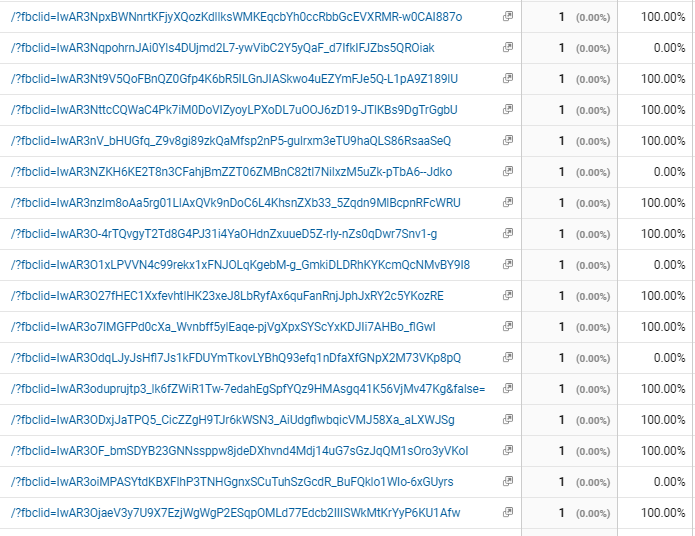 To adding this excess breakdown in the Landing page report Google Analytics has an option to exclude some url variables. This is a fast fix for the issue with Facebook traffic however it has some drawbacks.
Firstly, in case you add the url variables in Exclude URL Query Parameters one by one you need to keep updating it once new variables start to be used by a marketing platform. This may take a while before you discover the new parameters and add them (In the described case with Facebook the advertisers were not informed about this ner url variable and could not add it to the exclusion list on time)
Secondly, the url variables in Exclude URL Query Parameters are totally excluded from reporting. In case there were some important parameters (for example, attributes of a mailing campaign) they will be lost and you will not have a chance to break down any of your metrics by this parameters.
To avoid this drawbacks I recommend creating filters that will extract url variables from the ga:page dimension and put them into a separate custom dimension. This approach allows to keep your data clean and well-structured without deleting any data.